£340,000 seized at Harwich by Border Force now forfeited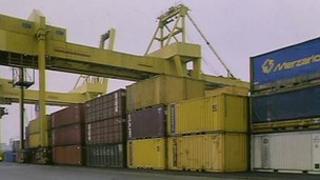 About £340,000 seized by government officers from a lorry in Essex has been forfeited in court.
Two Dutch men were stopped at Harwich in May and 422,900 euros were found, which the men denied knowledge of.
Magistrates in Ipswich have approved the forfeiture of the money to the Border Force.
The two men did not appear in court to challenge the forfeiture and the Border Force said they were not facing any criminal charges.
Officers believed the money was being laundered and seized it using powers given to them under the Proceeds of Crime Act while the lorry was waiting to board a ferry bound for the Hook of Holland.
Malcolm Bragg, from Border Force, said: "We have a responsibility to investigate cash in excess of £1,000 when we have reasonable grounds to suspect that it is linked to any criminal enterprise and bring this before the court."
The money goes to the Treasury.
Officials said the men, who were 54 and 57 and from Rotterdam, were released from bail in August without charge.