Plymouth paedophile William Goad dies in prison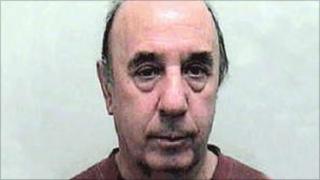 A Devon paedophile who is believed to have abused up to 3,500 boys has died in prison, the Ministry of Justice (MoJ) has confirmed.
William Goad, 68, from Plymouth died of "natural causes" overnight at HMP Albany, on the Isle of Wight.
The MoJ said: "As with all deaths in custody, the independent Prisons and Probation Ombudsman will conduct an investigation."
Goad was jailed for life in 2004 for sexual offences over a 35-year period.
'Jubilation' at death
Goad, who ran shops and market stalls, was jailed for 14 serious sex offences and two counts of indecent assault following a court case in 2004 in which he was described as a "voracious, calculating, predatory and violent homosexual paedophile".
Plymouth Crown Court was told he groomed his victims by offering them well-paid jobs in his shops and inviting them back to his home.
In 2010 one of Goad's victims, Ray Zolla from Newquay, was awarded a six-figure sum in damages for the abuse he suffered as a teenager.
Learning of Goad's death, Mr Zolla said: "Initially I was quite shocked but since then jubilation has come over me.
"As morbid as it sounds, I'm actually quite happy that a higher justice has been served and there's no way he can come back into the community.
"I'm glad it's come to an end but unfortunately a lot of the guys and survivors will still carry that pain for the rest of our lives."
He previously told the BBC that the abuse had "totally consumed" his life and caused him to develop post-traumatic stress disorder.
Goad was jailed for life, with a six-year minimum term, in 2004.