Grindlay-Peerless motorbike sells for £67,000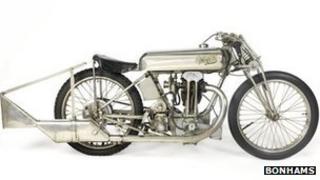 A rare 1920s motorcycle which travelled at over 105mph has sold for more than £67,000 at an auction.
The 1929 Grindlay-Peerless JAP 500cc "Hundred Model" was ridden by the late Edmond "Boy" Tubb at Brooklands race track, Weybridge, Surrey, in June 1937.
The motorbike, made by Grindlay-Peerless in Coventry, went for £67,580 at a Bonhams sale at Staffordshire County Showground on Sunday afternoon.
It has been displayed at Brooklands Museum since the 1980s.
Grindlay-Peerless rider C W G Lacey had achieved more than 100mph in August 1928.
Bonhams said the Coventry factory brought out five or six replicas of his machine, including the one used by Mr Tubb.
Director of the Bonhams Motorcycle Department Ben Walker said Brooklands machines "rarely come to market".
He added: "The ex-Edmond "Boy" Tubb 1929 Grindlay-Peerless represents the period of motorcycle racing when Brooklands was the centre for the world's most epic speed record attempts."