William Goad case: More victims of paedophile expected to come forward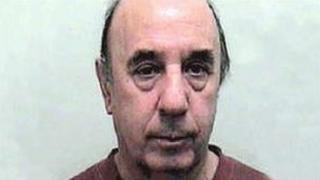 More victims of a paedophile estimated to have abused up to 3,500 boys are expected to come forward following his death, a counselling service has said.
William Goad, 68, from Plymouth, Devon, died of natural causes on Friday at HMP Albany, on the Isle of Wight, the Ministry of Justice (MoJ) said.
He was jailed for life in 2004 for sexual offences over a 35-year period.
Plymouth charity Twelve's Company said his death might spark memories in some of his victims.
Goad, who ran shops and market stalls, was jailed for life, with a six-year minimum term, at Plymouth Crown Court after admitting 14 serious sex offences and two counts of indecent assault.
The court heard he was a "voracious, calculating, predatory and violent homosexual paedophile".
'Hundreds unsupported'
Goad groomed his victims by offering them jobs in his shops and inviting them back to his home.
His abuse is believed to stretch back as far as 1965.
Twelve's Company, the lead agency for the Plymouth Sexual Assault Referral Centre, was set up in the wake of the Goad case.
Its chief executive, Chris Cotter, said Goad's death was likely to result in victims who had already received help returning and previously unknown victims possibly coming forward.
He said: "His prevalence throughout the period of time he was active would suggest that there are hundreds and hundreds of his victims out there unsupported.
"The very fact they he's going to flash into their consciousness as a result of his death could place emphasis on them trying to find help and... being given that opportunity to talk and move beyond the traumatic effects of that abuse."
The MoJ said an investigation was to be carried out Goad's death, as with all deaths in custody.