Torpoint military fuel spillage exercise takes place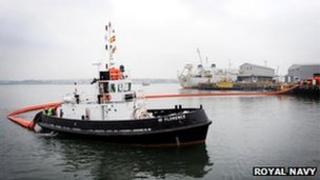 A simulated fuel spillage has taken place in Cornwall as part of a military exercise.
The Royal Navy and Ministry of Defence responded to a deliberate spillage of fuel oil at Thanckes Oil Fuel Depot in Torpoint.
The navy said it believed it managed to contain the liquid spilt between booms floated on the water's surface.
It added that if any other oil was found after the exercise, it would clean it up.
The exercise at Thanckes, which refuels military vessels, will contribute to plans for a bigger exercise in 2015.
Commander Carl Necker, the harbour master at Devonport naval base, said the exercise was to "refresh our personnel and that of the emergency planners and emergency service in the best way to respond to an incident".