Stephen Farrow murder trial: 'Confession' made to nurse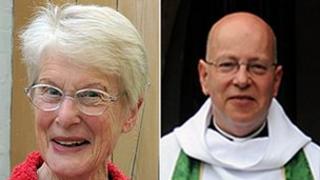 A man accused of murdering a retired teacher confessed to the killing to a mental health nurse, a court has heard.
Stephen Farrow denies murdering Betty Yates, 77, and the Rev John Suddards, but admits the vicar's manslaughter.
Mrs Yates had been beaten with a walking stick and stabbed with a knife at her home in Bewdley, Worcestershire, Bristol Crown Court was told.
Farrow told Richard Evans he waited from Sunday to Monday to kill "the person", assumed to be Mrs Yates.
Reading a statement from Mr Evans, who assessed Farrow following his first appearance at North Avon Magistrates' Court, prosecutor Michael Fitton QC said: "He (Farrow) said 'I didn't kill this person on January 1 because this was a Sunday, so killed her the following day'."
Pathological liar
"This is the only account of Mr Farrow telling anyone about the killing of Betty Yates," Mr Fitton said.
The barrister quoted the statement while questioning defence witness Dr Tim Rogers, a consultant forensic psychiatrist, who assessed Farrow twice and said his account was "not reliable".
On Tuesday, Dr Rogers told the court that Farrow demonstrated many of the characteristics of a psychopath, including that he was a pathological liar.
The court also heard that religion and the Church had always played an important part in the defendant's life, although he felt scornful towards religious figures.
Farrow had spoken to Mr Evans about the significance of the year 2012 - believing it would mark the start of the second coming of Christ.
Dark side
Dr Alan Lillywhite, a consultant forensic psychiatrist, assessed Farrow after he was transferred to Broadmoor Hospital from Long Lartin Prison in August.
He told the court that Farrow appeared "annoyed" when he asked him about what he had told Mr Evans.
"He said that was confidential," Dr Lillywhite said.
"He said 'I sometimes say things that I do not understand'."
Dr Lillywhite said Farrow had told him the "dark side" had led him to Thornbury.
Mr Suddards, 59, was found dead at his vicarage in Thornbury, near Bristol, in February.
"He said, 'I knew 2012 was going to come to completion' and that the vicar had come at the right time," Dr Lillywhite said.
Farrow, 48, of no fixed address, was not present in court having refused to leave Long Lartin prison in Worcestershire where he is being held.
The trial continues.