East of England Ambulance Service 999 guide urges use of 'alternatives'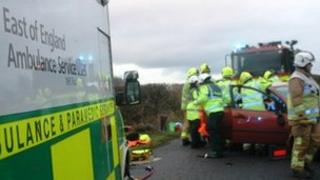 An ambulance service criticised by MPs for its response times has urged people to consider "alternatives" before dialling 999.
The East of England Ambulance Service said only a fifth of calls it received related to people in life-threatening conditions.
The trust said it had set up a "Right Call" campaign to help educate people about its "finite resources".
On Monday, it agreed to give monthly updates to MPs on its response times.
It followed concerns over the length of time the trust took to answer some call-outs, particularly in rural areas.
'Thousands of calls'
Six MPs from Cambridgeshire, Essex, Norfolk and Suffolk met the trust's chairman in Westminster.
The trust said many people believed all call-outs had an eight-minute response target.
But it said the requirement only related to patients in life threatening conditions - who make up a fifth of 999 calls to the trust.
Other calls nationally are graded for different response times ranging from 20 minutes to an hour.
The trust has written a guide on its website advising people about when to dial 999.
Neil Storey, the trust's director of operations, said: "Our staff deal with thousands of calls each week, but for one person it might be the only 999 call they make in their lifetime.
"We want to make it clear to them about what to expect, why a call is being handled in a certain way, and to even think about alternatives to 999.
"The ambulance service has to work with finite resources and within certain parameters to ensure help is given how and when it is needed."
The ambulance service covers Bedfordshire, Cambridgeshire, Essex, Hertfordshire, Norfolk and Suffolk.