Tatton Park grows first crop of pineapples in a century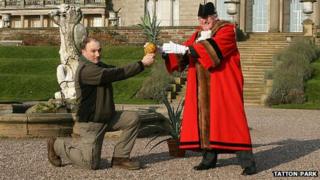 A pineapple house which was subject to a £2.5m restoration project has produced its first major crop of the fruit in over a century.
The project to restore Tatton Park's traditional pinery was completed in 2007 and staff have been working towards producing a crop ever since.
Head gardener Simon Tetlow said that though it had "taken five years, it has been well worth the wait".
He added that he now hoped to produce "as many as 300 pineapples a year".
Staff at the pinery commemorated the success of the crop by recreating a 1675 painting by Hendrick Danckerts, which showed King Charles II being given the first pineapple to be grown on English soil.
'Halcyon days'
The Mayor of Cheshire East, Councillor George Walton, took the role of the king for the re-enactment.
A spokeswoman for the park said though pineapples had been worth the equivalent of £5,000 in the 18th century, imported fruit had brought the price down and the pinery had fallen into disrepair around the turn of the 20th century.
She said it had been used as a vinery before being abandoned, but that a Heritage Lottery Fund grant had seen it and the surrounding walled kitchen gardens "restored to their halcyon days".
She added that the project had used "old plans and archaeological excavation" to ensure the restoration was authentic to the original 1774 pineapple house.
The pineapple house was officially reopened by the Countess of Wessex in 2007, at which point work began on establishing a new crop of the fruit.
The spokeswoman said the park had produced individual fruit since 2007, but this was the first large crop.
She said growing pineapples was "a complex process" which needed at least three years and that the park was growing the fruit in "the traditional way in a pot on a special mixture of oak-leaf compost".
She added that the compost "creates the same levels of heat as tanner's bark, a waste product from the tanning industry, which was originally used when growing pineapple but is now no longer available".