'Christmas cancelled' for Thames Valley Police officers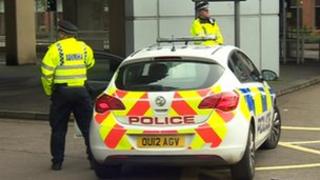 Christmas "looks like being cancelled" for hundreds of Thames Valley Police officers after their work hours were changed, the police federation said.
Those affected will now have to work between 20:00 and 04:00 instead of 14:00 and 22:00 on Christmas Eve.
The police federation claims the change contravenes police regulations, which require at least 90 days 'notice.
The force defended the move by defining it as a duty change rather than a shift change.
Thames Valley Police Federation wants compensation in overtime pay, while the force says the change is for operational reasons and so within rules.
It says it needs to ensure "sufficient resilience" is in place across the three counties it serves during the Christmas period.
However, the police federation believes it will be unfair for some officers who will be required back on shift at 15:00 on Christmas Day.
'No specific intelligence'
Secretary Andy Viney said the change would affect hundreds of officers and their families whose time together would be cut very short, amounting to Christmas in effect "being cancelled".
He said: "There is a difference to being told back in September that you are working those hours and being told five or six weeks before, and we find that unacceptable.
"Over the course of this year, officers have been extremely flexible with their time, especially having worked through the Olympics and other major events."
He added: "From what we can tell, there hasn't been any specific intelligence that requires additional resources at such short notice.
"We want the force to comply with regulations and give officers the due notice they deserve so they can plan their family life."
Acting Ch Supt Andy Standen, the force's head of tasking and resilience, said: "If duty changes are made they are done in accordance with police regulations."