Gritters out in Devon and Cornwall to stop flood water freezing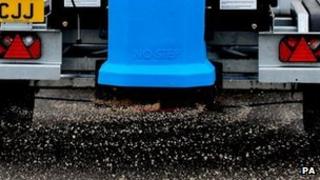 Gritters have been out across Devon and Cornwall in an attempt to stop any water left after recent floods from turning to ice as temperatures plummeted overnight.
Temperatures dipped to -2C (28F) in some places.
In Devon the county council said its crews were out at 18:00 GMT and 22:00 on Wednesday, and again at 04:00, covering 1,700 miles (2,735km) of road.
In Cornwall nearly 900 miles (1,450km) of road were treated.
Cornwall Council said it was concerned that run-off from fields could wash off any salt and then freeze.
Devon and Cornwall Police reported "lots of ice around this morning on the roads".
Officers said road users should "drive appropriately and stay safe".
BBC Weather said temperatures would reach 7C (44F) during the day.