North Weald crash: Plane in 'disorientating' spin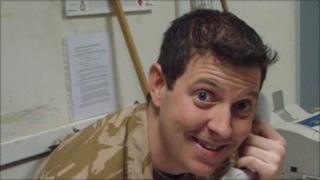 Two men died when a light aircraft crashed during a "disorientating manoeuvre" in aerobatic training, an inquest has heard.
Instructor Simon Hulme, 33, and student Spencer Bennett, 43, were killed when the Yak 52 crashed into a lake at Langford, Essex, on 28 April.
It was unclear which pilot was in control when it plummeted towards the ground in an inverted spin.
A jury sitting in Chelmsford returned verdicts of accidental death.
The pair, who were on the third day of the three-day course, both had controls, with the instructor taking over from the student if necessary.
Although such a spin manoeuvre could be recovered from, it was not thought that either had received any training in it, Tim Atkinson, senior investigator at the Air Accidents Investigation Branch (AAIB) told the inquest.
Pilots attending the aerobatics course at North Weald Airfield had to outline their previous flying experience but were not assessed in any way before taking part, the hearing was told.
There was also no formal risk management or safety system in place, the inquest heard.
'Horribly disorientating'
Mr Bennett, who lived in Holland, had obtained his private pilot's licence in 1999 and had his first experience of aerobatic flying in 2008, but had only partially completed a three-hour-and-five-minute course.
The inquest heard he had been described as a "slow learner" who "made more mistakes than others".
But he was also said to be very committed to improving and to possess the correct attitude for flying.
Mr Bennett and Mr Hulme, from Cirencester, Gloucestershire, were joined by two other planes flown by students and their instructors as they carried out a series of manoeuvres.
The pair were in the middle of the formation, with one of the occupants of the plane at the back filming the sequence with a video camera strapped to his helmet.
Mr Atkinson said the chief flying instructor, when shown the film, said the spin would have been "horribly disorientating" for those on board.
The investigator said: "The inverted spin is a particularly disorientating and uncomfortable manoeuvre.
No technical problems
"The body is exposed to rapidly changing G-force so the pilots, albeit strapped in to their seat, will be experiencing physical changes.
"The outside world would be appearing to be spinning around."
A post-mortem examination found the men died of head and chest injuries.
There were no technical problems found with the Russian-built plane that could have caused the crash, he told the inquest.
The AAIB has since advised the flying school on a number of measures, including more formal and recorded methods for establishing pilots' previous experience.