Southampton dog survives eating Christmas fairy lights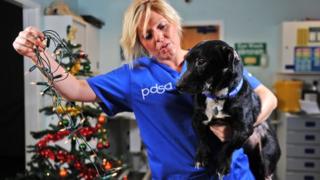 A dog owner has "pet-proofed" her house for Christmas after her rescue dog nearly died from eating a set of fairy lights.
Charlie, a seven-year-old crossbreed from Southampton, swallowed a 1ft length of lights and needed emergency surgery to have them removed.
Sharon Fay took him to the city's PDSA PetAid hospital after finding bits of wire sticking out of Charlie's faeces.
An X-ray showed a "large mass of wires" in his stomach.
Ms Fay, 45, said when it happened in October she had not noticed that the lights had been chewed.
Full recovery
She said the accident made her realise Charlie was a "repeat offender", because vets also found a shoelace inside him when they removed the lights.
"Back in March he ate one of my scarves and needed an operation to remove it, but I thought it was just a one-off incident," she said.
"I've had dogs all my life and have never known a dog act like this before - I'll certainly be keeping an extra close eye on him from now on and have Charlie-proofed my house now."
The PDSA said Charlie would have died without surgery but has made a full recovery and has not eaten any other "unsuitable" items since.
Sophie Bell, senior veterinary surgeon for the charity, said: "Over the years I've seen plenty of cases of dogs swallowing strange objects - socks, dummies, rubber ducks, but it's the first time any of us have treated a dog that has eaten fairy lights.
"A foreign body of this nature could easily have caused severe internal injuries so Charlie was very, very lucky. He was also fortunate the glass didn't cut his mouth or throat.
"And he could have been electrocuted if he'd bitten through the wire when the lights were switched on."