Toilet roll 999 call made to Devon and Cornwall Police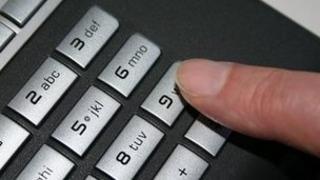 Running out of toilet roll and having difficulty contacting a Chinese takeaway have been revealed as some of the 999 calls made to Devon and Cornwall Police in 2012.
Other irresponsible calls included reporting a leak in a bathroom and complaining about a power cut, the force said.
Someone also asked for a lift home on Christmas Day.
Officers said 999 should only be dialled in emergencies.
Police said operators had to "bat away" such inquiries quickly to allow genuinely urgent calls to get through.
One entry on the police log read: "Just received a 999 call from a male saying: 'I have run out of toilet roll'."
Just after 07:00 GMT on Christmas Day, police received a call from a "sober sounding man" outside Exeter police station asking for a lift to Crediton, about nine miles (14km) away.
Plumber query
He told the operator he had spent all his money because it was Christmas and was struggling to get home.
A woman who had been trying to phone her local Chinese takeaway called police after her calls to the business were not answered.
She asked if officers knew if the takeaway had closed down or moved.
Another caller phoned after her electricity had cut out and told police they needed to deal with it.
The operator tried to give the woman an emergency number for the power company but she would not believe police did not deal with electricity.
And a man rang to ask for the phone number of a plumber as he had come home to find he had a leak in the bathroom.
The force said: "The 999 number should only be used for situations where life is threatened, people are injured, offenders are nearby, or if immediate action is required with an urgent response."
For general inquiries or to make non-emergency crime complaints people should dial 101.