East of England councils move from lifetime tenancies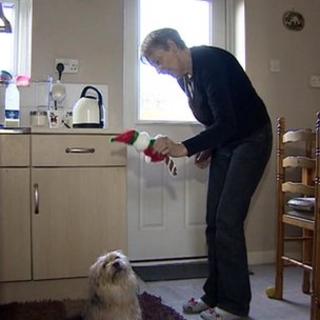 More than two thirds of local authorities in the East of England are set to end or restrict the right to life tenancies for new council house tenants, a BBC study has found.
The government's Localism Act 2011 allowed councils to introduce tenancy contracts.
And BBC Sunday Politics East has found only eight of 27 councils questioned planned to keep life tenancies.
The eight include Corby, Ipswich, Norwich, Luton and Waveney.
The councils sticking to lifetime tenancies are predominantly Labour-controlled.
The councils moving away from them include Bedford, Milton Keynes, Peterborough and Welwyn Hatfield.
Great-grandmother Maureen Connolly, 77, brought up a family of two sons and one daughter in a three-bedroom council house in Beeching Road, Norwich.
"I lived in here since my daughter was seven and she is 52 now," she told the BBC.
She said she is glad she had a life tenancy.
"I would hate to move. The only time I'm going to go out this door is in a box, feet first," she said.
Victoria MacDonald, Labour-controlled Norwich City Council's cabinet member for housing, said: "We think it is very important for our tenants to move into their homes securely and know this is their home for life.
"It's more than a political stance, social homes. We believe people should have the same rights to live securely and make a life for themselves and the community around them."
Toby Lloyd, head of policy for Shelter, said: "There are genuine social costs for local authorities and landlords themselves (of short term tenancies) because every time you end a tenancy you have to deal with the administration costs and the loss of rent that inevitably occurs - while you go through the re-letting process.
"At Shelter we have estimated that it costs over £2,500 on each re-let."
Alex Fitton, 23, and partner Sapphira Large, 22, live in an Orwell Housing Association home in Newnham Court, Ipswich.
They are on a one-year starter tenancy, which is likely to be extended to five years - a tenancy arrangement set to be brought in by the majority of councils in the East.
Mr Fitton said he was not worried about not having a life tenancy contract.
"A life-time tenancy wouldn't probably make any difference to us," he said.
"We probably wouldn't be looking to stay for the rest of our lives.
"We will probably want something bigger in a few years time.
"By that point we will probably be able to save up and get a place of our own."
Stephen Javes, chief executive of Orwell Housing, said he was in favour of fixed-term tenancy agreements.
"After five years it gives the individual and the local authority time to reflect on their circumstances: On whether they still need the house, on whether it's time to move on or look at shared ownership."
Marilyn Curran, portfolio holder for housing at Mid Suffolk District Council, said the council was planning to end lifetime tenancies for all but the elderly and most vulnerable.
"Fixed-term tenancies give us more flexibility," she said.
Ms Curran said the council has about 3,000 people on its waiting list and fixed tenancies will allow the council "to help those in greatest need".
She said if circumstances change, a house may be larger than required for the tenant after five years.
But in other cases if the tenancy agreement has been followed, it will be renewed for another five years.
The investigation will be broadcast as part of the Sunday Politics show in the East which starts at 11:00 GMT on Sunday.