Jimmy Savile victim: Police 'dissuaded' victim from pursuing case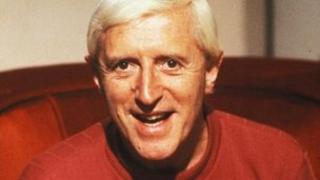 Detectives "dissuaded" a woman who told them she had been sexually abused by Jimmy Savile in Sussex from pursuing her allegation, a report has revealed.
The victim said an officer told her Savile had money, the best lawyers and would make mincemeat of her in court.
The disclosure is part of a review of the decision not to prosecute Savile in 2009 after he was investigated by both Sussex and Surrey police.
Sussex Police said it recognised it could have done better.
The review by Alison Levitt QC, legal adviser to the director of public prosecutions (DPP), was published alongside the Metropolitan Police and NSPCC report, Giving Victims a Voice.
Giving Victims a Voice revealed Savile was a "predatory sex offender" against whom 214 crimes were recorded across 28 police force areas.
Ms Levitt found that "had the police and prosecutors taken a different approach" prosecutions could have been possible in relation to three victims in Surrey and Sussex.
Two more allegations
Surrey Police received an allegation in May 2007 that Savile had sexually assaulted a teenage girl at Duncroft children's home in the late 1970s.
During their investigation two more allegations emerged - the first that in about 1973 Savile had sexually assaulted a girl aged about 14 outside Stoke Mandeville Hospital.
The second was that in the 1970s he had suggested to a girl aged about 17, again at Duncroft, that she perform a sex act on him.
In March 2008, Sussex Police received a complaint that Savile had sexually assaulted a woman in her early 20s in a caravan in Sussex in about 1970.
Surrey Police consulted the Crown Prosecution Service about all four allegations, and in October 2009 it was decided that no prosecution could be brought because the alleged victims would not support police action.
Ms Levitt found that Surrey Police did not tell each alleged victim that other complaints had been made.
Sussex Police told the complainant that corroboration was needed and the prosecutor did not question why victims would not support court action or seek to build a case.
'Victim remains positive'
The victims told Ms Levitt that if they had known that other people were making complaints, they probably would have been prepared to give evidence in court.
Sussex Police said it welcomed the DDP's report, including its finding the case was handled by experienced and committed officers who acted in good faith.
"Sussex Police continues to provide support to the victim and she remains positive about the support we provided to her at the time of reporting and since.
"We understand the conclusion the DPP has drawn, that our officers may have inadvertently dissuaded the victim from supporting any prosecution.
"It can be difficult in such circumstances to achieve the balance between supporting and reassuring a victim, whilst providing honest advice about the prosecution process and standard of evidence needed."
Surrey Police said it had undertaken an internal review of its 2007 investigation.
"It is important the actions taken by the investigation team are viewed in context. This should take into account what information was known about Jimmy Savile in 2007.
"At the time, there was nothing to suggest the level of offending now being reported on a national scale.
"We now know previous allegations had been made including two in London, one in the 1980s and one in 2003.
"Whilst we cannot be certain what the outcome of an earlier connection to a wider pattern of offending would have been, it may have altered the course of the Surrey investigation."
Director of Public Prosecutions Keir Starmer said he wanted the Savile case to be a watershed moment.
He said police and prosecutors had approached sex offence allegations "with a degree of caution which is not generally justified".
He added that guidance would be drawn up on prosecuting child sexual exploitation cases to underline that the credibility of the complainant's account has to be seen in its proper context.