Four compete for Devon and Cornwall police chief job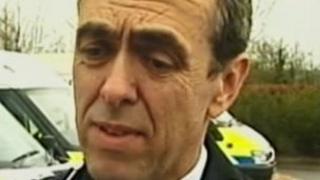 The acting Chief Constable of Devon and Cornwall Police faces competition from three others in a "test day" to become the permanent leader of the force.
Rob Beckley, Simon Chesterman, Craig Denholm and the current acting chief constable, Shaun Sawyer, are on the shortlist for the job.
The candidates will be interviewed and must make a 15-minute presentation which they have 45 minutes to prepare.
An announcement on who has got the job is expected on Wednesday.
The nomination will need to be approved by the Police and Crime Commissioner's watchdog, the Police and Crime panel, which will meet on 8 February.
The four candidates are:
Rob Beckley - Deputy Chief Constable of Avon and Somerset Police - After joining the Metropolitan Police in 1986 he worked as Assistant Chief Constable at Hertfordshire Constabulary before being appointed Deputy Chief Constable at Avon and Somerset Police in 2007.
Simon Chesterman - Deputy Chief Constable of West Mercia Police - Mr Chesterman joined the Thames Valley Police in 1984 and took up the position of Assistant Chief Constable with West Mercia Police in 2007 becoming Deputy Chief Constable in 2011. In 2001 he led an enquiry into the theft of the Enigma machine from Bletchley Park Museum.
Craig Denholm - Deputy Chief Constable of Surrey Police - He joined the Metropolitan Police in 1984 and was appointed Deputy Chief Constable of Surrey Police in 2009.
Shaun Sawyer, acting Chief Constable of Devon and Cornwall Police - Mr Sawyer started his policing career in 1986, serving as a uniformed officer within central London. He was also the lead Metropolitan Police Service investigating officer at the Ladbroke Grove Rail Disaster and joined Devon and Cornwall Police as Deputy Chief Constable in April 2010.
The position carries a salary of £150,000.