Luigi Belcuore death: Medical trial surgeon played God, says widow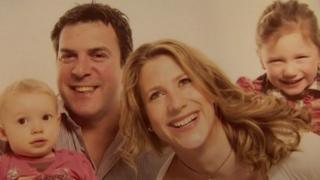 "That surgeon took away my best friend and the best father children could want."
Penny Belcuore has had to "move on" following the death of her husband Luigi, known as Louis, in October 2009.
But the mother-of-three, from Morton Bagot in Warwickshire, has found that very difficult, especially because the surgeon, whose actions led to the death of her husband Luigi, was allowed to continue practising.
Mr Belcuore, 43, died after agreeing to take part in a clinical trial involving elective surgery on his right knee, in 2009, for which after more than three years, Mrs Belcuore has been awarded an undisclosed sum in compensation.
The operation went wrong after Prof James Richardson used an adapted spray gun to close a wound in his patient's knee, at The Robert Jones and Agnes Hunt Orthopaedic Hospital in Oswestry, Shropshire.
An inquest in March 2011 heard the technique caused an air bubble to stop Mr Belcuore's heart, leading a jury at Shrewsbury Magistrates' Court to conclude the "modification contributed" to his death.
Mrs Belcuore said: "We used to walk a lot in the Cotswolds, we have two big dogs so it was one of our enjoyments.
"After we had the children Louis would take the girls in a papoose but very occasionally he got a bad pain in his knee and would stumble so he went to the doctor to see if he could find out exactly what was going.
"He was referred to a specialist and then referred to Professor Richardson and he came home very excited he was going to be part of this trial."
A Medical Practitioners Tribunal Service (MPTS) panel has been considering Prof Richardson's fitness to practise as a result of the incident on 20 October, 2009.
The tribunal has been adjourned on Friday after a partial-hearing, and will reconvene later this year to consider whether his actions amount to misconduct which impair his fitness to practise.
'Bittersweet' pregnancy
Mrs Belcuore has said that if he is not struck off as a result, she will know "justice hasn't been performed".
She said she was "shocked" the surgeon was allowed to continue practising after the death of her husband.
"That is the fault of the system, if it was any other profession he would have been suspended and that angers me," she said.
"I don't have any feelings towards Professor Richardson, I don't wish him unwell but we need to be protected from people who try to play god."
Mrs Belcuore found out she was pregnant with their third child, a baby boy, after Luigi had died.
"I was overjoyed but it was bittersweet with tragedy and joy all in one, a very strange feeling," she said.
"But it helped me pull myself together for the sake of my baby and for [my two] girls.
"I feel my husband should be here with the boy he always wanted, being of an Italian family a baby boy was really exciting and I knew I'd name him after Louis."
Mrs Belcuore said she has had to find ways to cope without her husband.
"My father died in a car accident when I was six and my mum brought four of us up," she said.
"It's not in my nature to be a negative person, I was raised very positively and that's just what I have t do for the sake of the children.
"I've got many many great friends so I'm very lucky in a lot of ways."