Chicken roundabout: Ditchingham Council opposes statue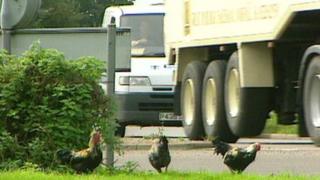 Plans for a statue to commemorate the 300 chickens which roamed free on a Norfolk roundabout for 60 years have been blocked by a parish council.
The last of the chickens left the roundabout in Ditchingham, near Bungay, about two years ago.
A Facebook page has been leading a campaign to have a statue, dubbed the Chicken of the East, on the roundabout.
But Ditchingham Parish Council said it could not support the campaign because the statue would be a "safety hazard".
A council spokesman said: "The council is very much opposed to anything that could distract motorists, many of whom approach this roundabout from both directions on the A143 far too fast."
Gordon Knowles, the 80-year-old man from Bungay who fed the birds for 21 years, said the council had got it wrong.
He said: "I've never known of an accident caused by a chicken.
"They put Ditchingham on the map and they're known all over the world."
Mr Knowles said he would not want to see the chickens reinstated on the roundabout but thinks a memorial should be installed.
Bungay Town Councillor Deirdre Shepherd agrees.
"They have the Angel of the North, why can't we have the Chicken of the East?" she said.
"If I was Ditchingham Parish Council I would pick this up and run with it."
The chickens had already lived at the site, close to the Norfolk and Suffolk border, for several decades before the A143-B1332 roundabout was built about 30 years ago.
The birds were thought to have escaped from nearby allotments and lived as a colony, surviving on grain from a nearby maltings.
Numbers gradually dwindled until the last half dozen of the birds were handed in to an animal charity.