Caterham Cars to leave Caterham after land is sold to developer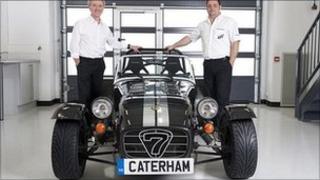 A Surrey-based sports car company has announced it is leaving the town it shares its name with after the land was sold to build retirement flats.
Caterham Cars, which was founded in 1973, said its landlords have sold the land around the Station Avenue showroom to developers.
It is now looking to move its showroom elsewhere in Surrey, with production continuing in Dartford, Kent.
The company is famous for producing the Caterham 7, a lightweight sports car.
David Ridley, who is the chief commercial officer at Caterham Cars, said: "Unfortunately these plans are beyond our control as we're only a tenant in these facilities, and we don't own the site.
"We wanted to stay in Caterham, but nothing was available.
"We're going to be making an announcement [about a new location] this week. Hopefully it will be in a 10-15 mile radius of our current location."
Caterham Cars, which was purchased by Team Lotus Enterprise in 2011, will leave the town by the end of February