Oxford exploitation trial: Girl 'burned with cigarettes'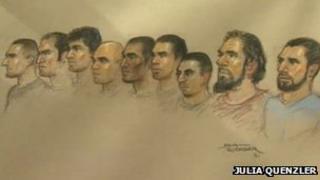 An alleged victim of a child sex ring would return home with bruises and cigarette burns on her, a court has heard.
Old Bailey jurors were told the girl was taken to houses and flats in Oxford to have sex with men.
She is one of six alleged victims of nine men accused of grooming and exploiting children in the city.
The men, from Oxford and Berkshire, deny 51 counts relating to girls aged between 11 and 15 from 2004 to 2012.
'Out of it'
The woman, who was a teenager at the time, told the court she was expected to have sex with up to five men a night, from places including Bradford, Slough and London.
She described the alleged incidents as "parties" and said she was given drugs and alcohol.
"I think it had already been predetermined that there would be a sexual element to the evening," she told the court.
"It seemed like they would encourage each other to take a little bit of what's on offer, that's how it felt.
"I would be pretty out of it by the end of it."
The witness described how she would be away from home for up to to eight days at a time at various properties including some in the Cowley Road area which were often "dilapidated, grotty places".
She said she was taken there by defendants Kamar Jamil, Anjum Dogar and Akhtar Dogar.
'Lost life'
The jury heard sometimes the men would get "physically rough" with her.
She said she would return home bruised and sometimes with cigarette burns on her.
The court heard she also lost a substantial amount of weight, and her bones could be seen through her skin as she would not be given food.
On one occasion police took her home after she had been reported missing and her trousers had blood on them, the jury was told.
"A lot of it is a lost part of my life," she told the jury.
The trial is expected to last until April. The defendants, who are all in custody, are:
Kamar Jamil, 27, formerly of Aldrich Road, Oxford
Akhtar Dogar, 32, of Tawney Street, Oxford; and his brother Anjum Dogar, 30, of Tawney Street, Oxford
Assad Hussain, 32, of Ashurst Way, Oxford
Mohammed Karrar, 38, of Kames Close, Oxford; and his brother Bassam Karrar, 33, of Hundred Acres Close, Oxford
Mohammed Hussain, 24, of Horspath Road, Oxford
Zeeshan Ahmed, 27, of Palmer Road, Oxford
Bilal Ahmed, 26, of Suffolk Road, Maidenhead