Dakar rally triple amputee Thomas Neathway hopes to inspire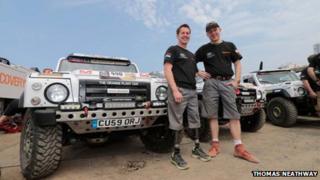 A Worcestershire soldier who lost both legs and an arm in Afghanistan has said he hopes taking part in the Dakar Rally will inspire other disabled people.
Cpl Thomas Neathway was part of the Race2Recovery team, which included other wounded soldiers, competing in the 9,000km (5,592-mile) rally .
"For me it's what I've been trying to do - showing disabled people what can and can't be achieved," he said.
The 15-day rally involved teams racing through Peru, Argentina and Chile.
Cpl Neathway, of 2nd Battalion, the Parachute Regiment, said: "The Paralympics brought into people's eyes a lot more what disabled people can achieve.
"It's just showing that you could be having a really bad day, but there's someone who's having an even worse day and they've got limbs missing, but they just get on with it."
Cpl Neathway, based at RAF Brize Norton in Oxfordshire, was injured when a booby trap bomb detonated in 2008.
His team raised money for Tedworth House, which is run by the Help For Heroes charity, and gives physical and psychological aid to injured service personnel.
"I might have to use those facilities one day, so that's one of the charities that's close to my heart," he said.
He added that even though only one of their four vehicles finished the rally, they earned the respect of the other competitors.
"We were having all the top teams coming up to us who couldn't believe how we were coping, and to have a vehicle finish - they were even more shocked by that," he said
Cpl Neathway and driver Justin Birchall were forced to pull out around half way through due to mechanic issues.
He said he has been "bitten by the rallying bug" and is now planning to take part in next year's Dakar Rally.