Matthew Baird-Parker: River death kayaker 'loved' the water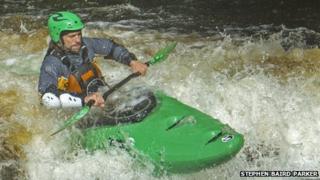 The family of a kayaker who died after getting into difficulties in a swollen river have said he "loved" the water.
Matthew Baird-Parker was pulled from Arkle Beck at Reeth, North Yorkshire, on Sunday by firefighters but died later in hospital.
The 36-year-old, from Heckmondwike, West Yorkshire was trapped in debris.
Mr Baird-Parker's father, Stephen, said his son had been "full of life" and praised the emergency services who had tried to save him.
"Matthew was a very active and committed person and anything he did he did to his full extent. Kayaking has been wonderful for him," he said.
"If there was a way you could wish to die then he would have wanted to die doing this. He was exceptionally good at it and it is all he wanted to do."
Search teams praised
North Yorkshire Police had been notified of a man in the water at Reeth just after 13:00 GMT on Sunday.
Officers were assisted by the Swaledale Mountain Rescue Team, North Yorkshire Fire and Rescue Service and an RAF air support unit in their search of the water.
Mr Baird-Parker was pulled from the water at 14:30 and was taken by air ambulance to James Cook University Hospital, Middlesbrough, where he was pronounced dead.
His father said: "They all worked exceedingly hard to save him and I can only praise them. Perhaps he shouldn't have gone out yesterday but I can't really say that.
"He never went out alone and the other two boys he was with also tried really hard to save him. He wasn't totally crazy with risk."
North Yorkshire Police said an inquest was expected to be opened on Wednesday.