Police chief Sir Peter Fahy calls for diversity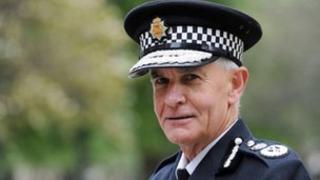 A senior police officer has called for forces to positively discriminate in favour of recruiting black and ethnic minority officers.
Sir Peter Fahy, Chief Constable of Greater Manchester Police, said there was a growing diversity problem in the police service.
He said creating a more diverse service should be a legal requirement.
Sir Peter is lead spokesman on workforce development for the Association of Chief Police Officers.
"The populations we are policing particularly in the big cities like London and Manchester are becoming ever more diverse and we have not kept up with that," he told BBC Radio 5 Live's Victoria Derbyshire.
"We've had great progress with more female officers - we've had four female chief constables appointed just in the last few weeks - but in terms of officers from ethnic minorities we've had more difficulties."
He added: "This is not about political correctness, there are very strong operational reasons why when you are dealing with difficult community issues or undercover operations or gathering intelligence you need a more representative police force."
Sir Peter added that budget cuts and the removal of senior posts from the service would worsen the diversity problem and reduce the opportunity for promotion to senior roles.