Surrey-based Caterham Cars move to new home in Sussex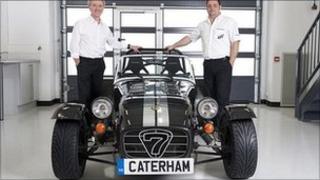 Surrey-based Caterham Cars has announced it will move from the town it shares its name with to a new home in Sussex.
The sports car company said it was forced to leave its present showroom site after the land was sold to build retirement flats.
It has announced it will move to a new temporary home in Crawley, with production continuing in Dartford.
The company, founded in 1959, is famous for its lightweight car, the Seven.
'Forced our hand'
The temporary showroom will be based in Denvale Trade Park with the company saying the location of a permanent home will be revealed "in due course".
Caterham Cars managing director, Graham Macdonald, said: "We are still working hard on a new long-term home and hope to have something to announce soon.
"But the timing of the sale of our existing home in Caterham has somewhat forced our hand in terms of having to make interim plans.
"We will endeavour to make sure that the transition between sites is as seamless as possible and does not affect our customers in any way."
Caterham Cars is expected to vacate its current premises by the end of February.