Sick woman's appeal sparks rise in Jewish bone marrow donors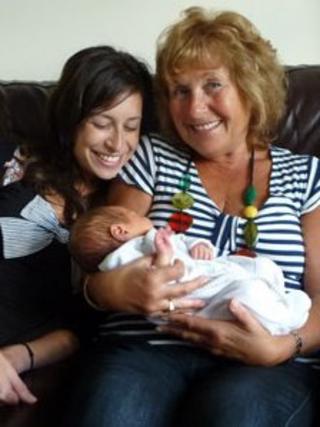 The number of Jewish bone marrow donors registered with a charity has risen by 985% as a result of a campaign to save a terminally ill woman.
Sharon Berger, of London, was diagnosed with a blood disorder in 2006.
Doctors say she needs a transplant within five weeks to survive and the best match would be an Ashkenazi Jew.
Since her daughter Caroline, from Oxford, began a campaign this month, the Anthony Nolan trust has had 434 applications from Jewish people.
During the same period last year, the trust received just 40 new Jewish registrations.
An Anthony Nolan spokeswoman said the charity believed the increase was a direct result of Mrs Berger's appeal, and added a majority of new donors had registered online.
No match yet
Mrs Berger, 61, from from Harrow, north-west London, suffers from myelodysplastic syndrome and has a combination of rare tissue types, making finding a matching donor more difficult.
Her daughter, 31, said: ''We are overwhelmed that so many people are putting themselves forwards to help our mum.
"Sadly we still haven't found a match so are urging more people to sign up in the hope that they might be able to help save our mum's life.
"Finding a match for my mum is like trying to win the lottery in a few weeks but the chances will increase with the more people that join the register."
Ann O'Leary, head of register development, said: "The response to Sharon Berger's appeal for a donor has been incredible.
"It can prove very difficult to find a match for people from unusual ethnic backgrounds like Sharon.
"We know that the best possible match is likely to be someone from a similar background so we're urging all Jewish people aged 16-30 to come forward."