Cycling in England gets £62m government investment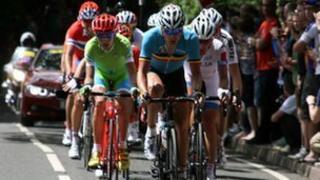 The UK's leading cycle campaign group has welcomed more than £60m government investment in cycling around England.
British Cycling praised Transport Minister Norman Baker for increasing spending on cycling infrastructure around the country.
But it fears the money could be wasted if it is not underpinned by sustained future investment.
The £62m funding announced covers cycle hubs at railway stations, dedicated networks and safety improvements.
Most of the new money is part of a £107 investment in improving cycling facilities in England during the current Parliament as the country attempts to cater for the boom in cycling, fuelled in part by Team GB's Olympics achievements.
It also includes an extra £5m to spend on improving junctions considered dangerous for cyclists.
'Strategy needed'
Mr Baker said: "We are serious about cycling, as this latest wave of funding shows. We have already seen how schemes can quickly deliver economic and environmental benefits, as well as improving public health.
"Our ambition is to get people cycling more safely and more often, and today's announcements will help us to make that vision a reality."
However, British Cycling's policy director, Martin Gibbs, fears it is not enough to make a lasting difference.
"What has been announced is a discrete piece of spending, not part of a wider strategy or part of a long-term investment," he said.
"It is great that we are getting another £60m, but the total funding package works out at less than £1 per head of the population. The Dutch spend £25 per head per year and have been doing so for decades."
Local authorities will need to match some of the money allocated - for schemes in both urban and rural locations - and councils may need to sustain that investment to generate lasting benefits.
Last year, four years after being named England's first cycling city, Bristol faced criticism of its "confusing" cycle lanes and "unsafe" roads, which the city council said needed investment over several years to address.