Family of Cpl Andrew Roberts to receive Elizabeth Cross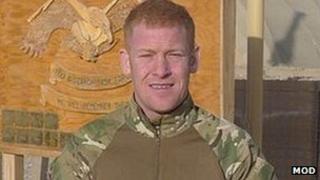 The family of a soldier killed in Afghanistan is being honoured at a ceremony in Oxfordshire later.
Cpl Andrew Roberts, 32, from Middlesbrough, died in a mortar attack on a base in Helmand province in May.
His widow and parents are due to attend the presentation at St David's Barracks, Bicester.
The Elizabeth Cross and Memorial Scroll recognises the bereaved families of soldiers killed on operations, or as a result of terrorist actions since 1948.
Cpl Roberts was a section commander and joined the Army in 1998. He had previously served on operations in Bosnia and Iraq and was on his second tour of Afghanistan.
He died alongside Fiji-born Pte Ratu Silibaravi, 32, when a mortar round hit their operating base in the northern part of the Nahr-e Saraj district.
The soldiers were from the Royal Logistic Corps, attached to 1st Battalion The Royal Welsh Battlegroup.
They were deployed as part of an advance search team in the operations squadron of the Explosive Ordnance Disposal and Search Task Forces, based in Bicester.