West Midlands ambulance stations to be sold off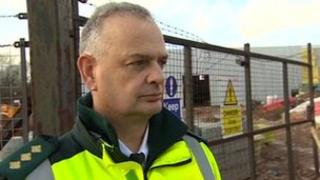 Six ambulance stations are to be put up for sale in the West Midlands next week.
The ambulance service expects to net more than £2.5m from the sale of three stations in Shropshire, two in Warwickshire and one in Worcestershire.
It is part of its £9.6m Make Ready scheme, which will see the creation of a number of hubs and community stations across the region.
The service said the sale of stations would be used to help fund the project.
Shropshire already has a couple of hubs which act as 24-hour vehicle and ambulance preparation depots in Shrewsbury and Donnington.
The county's stations to be put up for sale are those on Morda Road in Oswestry, Abbey Foregate in Shrewsbury and Queens Way, Whitchurch.
Community stations, which West Midlands Ambulance Service (WMAS) lease, are already operating in, or are planned for, the three towns.
'Assistants kitting vehicles'
Coventry and Warwickshire will be served by two hubs in Coventry and Warwick which are expected to be ready by April and July respectively.
Offers are being invited for the stations in Elliot Way, Nuneaton, and Brownsover Lane, Rugby, from next week.
The service has said it will not move out until two community stations are built in both towns.
Evesham's ambulance station in Davies Road is to be sold but the location of a community station in the town is yet to be decided.
Two traditional stations in Spetchley Road, Worcester and Barnsley Hall Drive, Bromsgrove, are being refurbished to become Worcestershire's hubs at a cost of £1.45m.
WMAS said the remainder of its traditional stations will also be sold off in due course.
Nigel Wells, from WMAS, said the scheme would be better for patients.
Mr Wells said: "We're having these community paramedic sites out in the community so the cars will already be out there.
"We already move the ambulances across the county all day long and they will go out from this hub fully equipped, fully checked and fully supplied.
"At the moment we've got paramedics kitting vehicles and their time is better serving patients so we're going to have a team of ambulance fleet assistants kitting these vehicles.
"Across the region this is a £9.6m project so there's no savings there.
"The only savings we will see are in operating costs."