M1 lane plans on display in South Normanton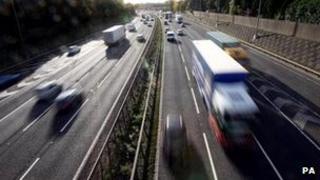 Plans to convert the hard shoulder into a permanent traffic lane on part of the M1 are going on display in a Derbyshire town.
The work is proposed for a 19-mile (30.6-km) stretch of motorway between Junction 28 in Derbyshire and Junction 31 in Nottinghamshire.
The Highways Agency said it would help traffic flow better and make journey times more reliable.
Plans will be on display in South Normanton on Saturday.
The public will also get a chance to view the information at St James the Greater Church Institute in Barlborough, Chesterfield, on 9 February.
CCTV cameras
The agency said variable mandatory speed limits would be in place on that section of the M1.
Project manager Dan Tank said: "This section of the M1 will provide much needed additional capacity, easing congestion and making journey times more reliable for the 95,000 road users who depend on the route each day."
Highways Agency spokesman Andrew Page-Dove said a similar project on the M42 had been "a real success" with improved traffic flow along the motorway.
"We are introducing CCTV cameras to monitor traffic and we will have emergency refuges if people break down," he said.
Similar schemes are also planned for the M1 between junctions 32 and 35a, near Sheffield, and junction 39 to 42, near Wakefield, West Yorkshire.
The project is estimated to cost between £170m and £250m with work starting in summer 2013 and finishing by spring 2015.