Brighton to London commuters stranded for four hours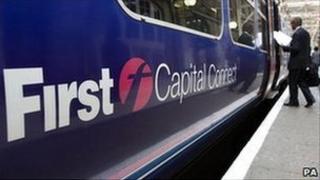 Rail passengers were stranded for more than four hours after a train broke down near Brighton less than 15 minutes into its journey.
The 06:07 GMT First Capital Connect service to London Bridge stopped near Clayton after developing a fault.
Commuters were stuck on board, without any heating, according to some, while engineers tried to move it.
It was finally towed away at about 10:30 and the passengers switched to another train.
Other passengers on northbound First Capital Connect (FCC) and Southern services were delayed by almost two hours as trains were diverted via Lewes.
Six hours to St Pancras
FCC apologised for the disruption, which it said was caused by a series of faults with the defective train.
Services between Brighton, London and Bedford were affected for most of the day.
One of the stranded passengers, who was on his way to Edinburgh, said the 50-mile journey from Brighton to St Pancras took an hour and a half longer than the 330-mile London-to-Edinburgh stretch.
Bank worker Dale Who told the BBC: "I do tend to travel by train. I don't have a car because I prefer the train. Well, I did."
He added: "You expect delays. Sometimes things get really held up. But I don't expect a 90-minute journey to be six minutes shy of six hours."
Mr Who said he was frustrated at the limited information given to passengers, and the reaction of customer services staff when he called them from the static train.
Series of problems
He said: "They paid no attention whatsoever. But most of my fellow passengers had this depressed acceptance."
An FCC spokesman said: "We had a train that failed, and as a result, nothing could go north from Brighton.
"We had our engineers out, but there was a series of subsequent technical problems which meant it took a long time to get it moving again."
He said that although there were often hold-ups on the line, it was unusual for FCC trains to break down.
He admitted the stock was "quite old", but added: "We run these trains day in, day out, and we do maintain them to the highest standards expected of us."
He said the first of a new fleet of carriages should start using the line in 2015.