Council budgets reduced by £300m and 1,230 jobs at risk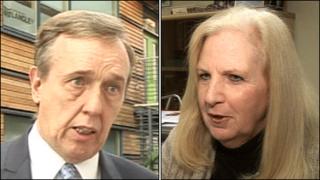 More than £300m is to be shaved off council budgets across the East as local authorities face another tough round of financial decisions.
Government funding has been cut again this year for most councils in our region and Communities Secretary and Essex MP Eric Pickles has challenged all authorities to freeze council tax bills.
Research by BBC East, involving all 51 councils in the region, has revealed:
•A funding gap of £338m
•About 1230 jobs at risk
•A council tax freeze by more than half of our local authorities
About a dozen councils are still to decide whether to freeze council tax but many have signalled cuts to services as well as efficiencies made by sharing services, merging departments and not filling staff vacancies.
'No leeway'
For householders in Uttlesford, Tendring and Braintree, there will be a small decrease, while bills are likely to rise in eight local authorities - Rochford, Maldon, Harlow, Cambridge, East Cambridgeshire, Daventry, Milton Keynes and Southend.
The government has cut funding to councils by an average of 1.7% and wants them to be less reliant on central cash in future.
In Southend, where savings of £30m are looming, the council is set to axe its £130,000 support for the town's air show, throwing the future of the event into doubt.
Southend council leader Nigel Holdcroft said financial decisions were becoming harder to make: "We no longer have any leeway and we have to make real cuts to services in order to balance our books."
Luton Borough Council faces a £22m deficit this year and is still debating how to make ends meet.
A spokesman said tough decisions lay ahead.
"Without doubt, things cannot stay the same. It is not what any of us wants but it is undisputedly the financial reality," they said.
Many councils are sharing services to save cash - Forest Heath and St Edmundsbury in Suffolk have a joint chief executive, while many authorities have joint IT, legal and personnel services.
Babergh and Mid Suffolk have amalgamated all of their departments.
'Local approach'
The government wants to see more councils branching out into commercial enterprise to generate cash to offset council tax.
In Daventry, the council part-owns the ICON Innovation Centre and is building 45 homes to rent out. Income from both projects will offset council taxes now and in the future.
Chris Millar, Daventry council leader, said: "Government grants have been squeezed and our own tax payers don't want to pay too much tax."
But Sharon Taylor, leader of Stevenage Borough Council, said not all local authorities were in a position to follow suit.
"It is an important feature of local government that we have a local approach to meet the needs of our local communities.
"The ability to generate income will be different from place to place."
Sunday Politics East is on BBC 1 at 11:00 GMT on Sunday