Alex Cunningham calls for an end to tobacco investments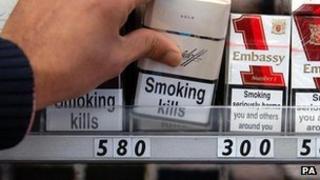 An MP has called for councils to "ditch" their investments in tobacco firms as they prepare to take over NHS anti-smoking campaigns.
Stockton North MP Alex Cunningham said the pension schemes should look elsewhere to avoid a "clear conflict".
Research by BBC Sunday Politics found funds in the North East and Cumbria hold more than £100m worth of stock in global tobacco companies.
Fund managers insist all investments are in accordance with regulations.
A Freedom Of Information request by Sunday Politics uncovered the multi-million pound commitments.
Labour MP Mr Cunningham said councils should change their policies to avoid any mixed messages.
Local authorities will manage public health campaigns from 1 April.
Mr Cunningham said: "They really have to look to other investments now whether that's oil, energy or somewhere else, they need to look where they can get a similar return and ditch tobacco once and for all."
The Teesside Pension Fund - which represents four local authorities - has the largest holding at nearly £68m.
Lead officer Paul Slocombe said: "The Teesside Pension Fund's investment policy is not to screen investments on social, ethical or environmental grounds but the fund does actively engage with companies to ensure good governance."
The full story will be on Sunday Politics in the North East and Cumbria on BBC One from 11:00 GMT on Sunday.