East Midlands cycling gets £2m boost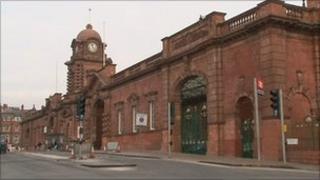 More than £2m is to be spent on improving facilities for cyclists in East Midlands' towns and railway stations.
Plans include the creation of cycling hubs at Nottingham and Leicester stations and the provision of hire bikes at Nottingham and Derby.
A new bridge for cyclists will be put in over Maud Foster Drain in Boston, Lincolnshire.
Money for the projects has come from a £62m government fund.
The station cycle hubs will include secure cycle storage, lockers and changing facilities.
The bike hire schemes will follow the "Brompton docks" model, currently being used in Guildford, Surrey and some London stations.
Passengers pay a membership and can hire a folding bike to get them to and from the station.
Future reservations
Nottingham City Councillor Jane Urquhart, said: "This will have a positive impact on the regeneration of Nottingham Station and will help make the city an increasingly cycle-friendly place to be."
Andrew Martin, chair of Nottinghamshire cycling campaign group Pedals, said he welcomed the news but still had some concerns about the projects.
"The funding announcement is definitely good news. But there are always reservations when it people are talking about large sums of money.
"If the infrastructure for cycling goes in, that's great. But will the funds be available in five or 10 years time to maintain the schemes?"
Speaking after the announcement, Transport Minister Norman Baker said: "We are serious about cycling, as this latest wave of funding shows.
"We have already seen how schemes can quickly deliver economic and environmental benefits, as well as improving public health."