Seabird deaths: Pollution causes 'burning' to seabirds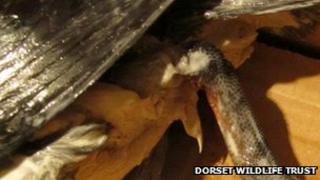 The mineral oil substance found on seabirds off the south coast of Cornwall, Devon and Dorset has caused burning, a wildlife trust has said.
Dorset Wildlife Trust has said the substance has caused burns to the the legs of affected birds.
It said the oil was "potentially harmful" to humans, although no injuries have yet been reported.
No more birds were found on Monday morning on the Dorset coast at Chesil and Portland Bill.
Members of the public have been warned not to handle any birds they find.
Efforts are continuing to discover the source of the pollutant, which has been found on hundreds of seabirds washed up since last week.
'Food chain'
Emma Rance, marine conservation officer for Dorset Wildlife Trust, said: "It's a nasty contaminate which we should assume is potentially harmful to people as well as birds."
She said the birds have been found with the substance congealed on their feathers, which reduces their waterproof coating and ability to stay warm and afloat at sea.
She also warned people not to try to help the birds by picking them up.
"It is not just potentially harmful but also very stressful for the birds - that stress alone could kill them.
"It's a massive concern at a time when the marine environment is already incredibly vulnerable.
"It won't just affect birds but it is potentially harmful to fish, whales, dolphins and many other species," she said.
BBC Springwatch presenter Chris Packham said: "It could be a much bigger incident than we'll ever know.
"It's the birds that have been in immediate contact but these substances can break down and get into the food chain for many years to come."
More than 300 birds, mostly guillemots but also some razorbills, are being treated at the RSPCA West Hatch centre near Taunton, Somerset.
It said the birds would not be returned to the water until the source of the pollution has been identified and the danger has passed.
Scientists from the Environment Agency identified the substance on Friday as a refined mineral oil, but said it was not from an animal or vegetable-based oil.