Endurance tug crewman missing off Eastbourne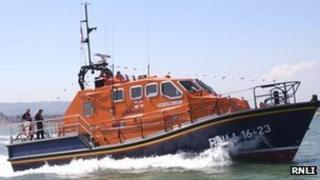 A tug crewman lost overboard in gale force winds and violent seas in the English Channel is still missing after a nine-hour search by lifeboats.
The RNLI said Eastbourne all-weather lifeboat was launched at 00:39 GMT after the man fell from the Endurance.
A lifeboat from Newhaven later joined the search, along with a coastguard helicopter, but it was abandoned at 09:10 GMT after nothing was found.
Endurance was sailing from Dover to Brighton towing a 60ft motor cruiser.
The crewman, one of two on board, was trying to re-establish the tow after it was lost when he fell overboard five miles south of Sovereign Harbour on the East Sussex coast.
Rescue services were alerted when his colleague sent out a Mayday distress call.
The two lifeboats were joined after first light by mobile units from HM Coastguard.
Coastguard spokesman Graham Easton said rescue teams searched the beaches between Birling Gap and Eastbourne for signs of anyone coming ashore.
However, by 14:00 GMT all efforts were called off with no body found,
The cabin cruiser, which had drifted five miles from the scene, was towed into Sovereign Harbour by the Newhaven lifeboat.