Stowaways rescued from Dover-bound refrigerator lorry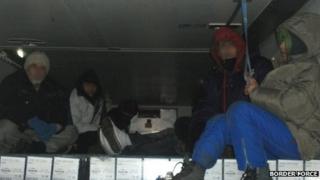 Seven people, some suffering from hypothermia, have been rescued from a refrigerated lorry bound for the UK.
Border Force officers at Dunkerque in France stopped the Slovakian registered lorry at 10:00 GMT on Friday and found three adults and four children inside.
The temperature in the lorry, which was bound for Dover and Milton Keynes, was at -2C, officials said.
All four children, aged between nine and 16, and one adult suffered hyopthermia and were taken to hospital.
The lorry, carrying a consignment of cheese, had four Afghans and three Iranians inside and was due to board the midday ferry to Dover.
The Border Force said it estimated if they had not been found, the group would have faced at least another seven hours inside the truck.
Paul Morgan, from the force, said: "This incident shows the desperate lengths that people will go to in their attempts to reach the UK.
"The group had already spent several hours in sub-zero conditions when Border Force officers discovered them. They had no way of getting out."
"If the lorry had carried on unchecked then this could've had fatal consequences, especially for the children."
The Belgian lorry driver was interviewed by French police and released without charge.