Glen Daly Crete death: Anger of parents as trial put back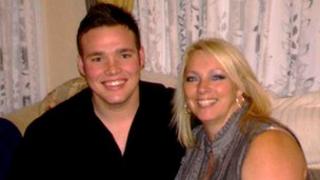 Parents of an Essex man killed in a crash in Crete say they are "angry" the trial of a lorry driver accused of his death has been delayed.
Glen Daly, 24, of Chadwell St Mary, near Grays, died when his motorcycle was involved in a collision with a lorry on the Greek island in June 2009.
The lorry driver has been charged with negligent homicide.
His parents Les and Dorothy Daly had been due to travel to Heraklion for the start of the trial on Monday.
The trial would have heard evidence from their son's friend Tony Atkins, 27, who witnessed the crash.
Mrs Daly, 55, said they received an e-mail on Friday morning telling them the trial had been put back as the solicitor for the lorry driver had to attend a court case in another city.
It is the third time the case has been put off - it was also adjourned in 2010 and 2011.
"I feel sick to my stomach, I'm so upset" Mrs Daly said. "Each time the trial's put off it destroys our family again.
"But we're never going to give up."