Charlie Hutton's father calls for boat insurance clarity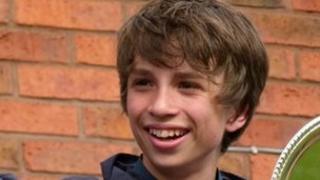 The father of a boy killed in a boating accident off the Isle of Wight coast has called for more clarity in insurance cover.
Simon Hutton's 14-year-old son Charlie died when he was swept overboard and struck by a boat propeller in July.
Mr Hutton, from South Croydon, Surrey, claims insurers failed to explain personal accident cover in his boat policy did not include children.
His insurance broker Towergate told him such covers tended to be restricted.
But the firm declined to comment further when contacted by the BBC.
Charlie Hutton was swept overboard from his father's rigid inflatable boat by a large wave during a family trip with two school friends on 20 July.
He became entangled in the boat's propeller suffering injuries to his pelvis and leg.
Despite being airlifted by the Solent Coastguard helicopter shortly after the accident, the Whitgift School pupil died from his injuries on the way to hospital in Southampton.
Small print loopholes
An inquest last month recorded a verdict of accidental death.
"Charlie's tragic accident was obviously extremely unusual, but it highlighted the loopholes you can face with personal accident cover as a layperson," said Mr Hutton, 52.
"It turns out children under 18 are not covered in a standard policy. In fact, the limit for anyone is only £10,000.
"Had Charlie been paralysed and needed round the clock care for the rest of his life, he wouldn't have been covered."
Mr Hutton also discovered he would only be able to make a claim if negligence was subsequently proved.
He added: "Why should parents have to go down that route for their own children?
"My child has died. The policy has not even paid for the funeral or for three of us to have counselling.
"You take out these policies only to find they are woefully limited when you read the small print.
"I hope in some way, what happened to Charlie will highlight to other boat owning parents and families the pitfalls that could exist in their policies."
Towergate managing director Nigel Mills told Mr Hutton: "The personal accident cover which some insurers include with a leisure craft insurance policy, is by its nature restricted, both in the amount that is payable and that it only applies when people are on the boat.
"If someone is seeking accident cover for themselves and their family they should ask their insurance broker for a policy that gives them 24/7 cover for all the family's activities, be it horse riding, rugby or boating."