Anger at Rolls-Royce job cuts plan in Bristol and Derby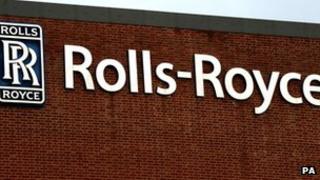 British aerospace company Rolls-Royce is to cut about 320 jobs at its Bristol and Derby plants, according to the workers' union, Unite.
Rolls-Royce confirmed that it was cutting jobs but would not confirm the number of posts under threat.
The company said it will put more people in frontline engineering and production, and fewer in support roles, in order to be more competitive.
It said it would try to redeploy people to avoid compulsory redundancies.
In a statement it said: "Last year, we recruited more than 300 people on to our graduate schemes and will recruit more. We also took on another 300 apprentices and that number will grow in the year ahead."
Unite's national officer Ian Waddell said: "Rolls-Royce is a massive success story in UK manufacturing, making record profits and with a booming order book.
The company needs the support of its employees to continue this success story and fulfil its commitments to its customers."
Mr Waddell said he urged Rolls-Royce to abandon the plan and talk to the union about measures to improve competitiveness without cutting staff.
This latest round of cuts come a month after the company announced it would be stopping its UK defence operations at Ansty in the West Midlands, which could see 378 jobs go.