Evesham and Stratford cricket clubs plea after floods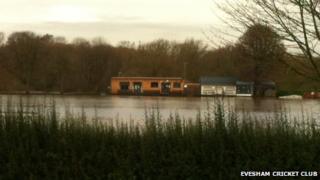 Two cricket clubs have launched emergency fundraising appeals after they were badly hit by severe flooding.
Heavy rain in November and December caused damage at Evesham and Stratford-upon-Avon cricket clubs.
Evesham said it could now face a bill of £25,000 to replace its artificial pitch and re-seed the square.
Both have now applied to the England and Wales Cricket Board (ECB) for emergency funding.
Jim Troughton, captain at Stratford-upon-Avon, said: "With such a rich history, it would be tragic to see the ground fall victim to lack of funds."
He said the floods had damaged the square, outfield, artificial nets and equipment at the club, which has been playing at Swans Nest Lane for more than 100 years.
Warwickshire County Cricket Club has also used Stratford-upon-Avon's ground for county matches, but now it is unclear if they will be able to this summer.
Officials at Evesham Cricket Club, which has been at its ground since 1904, said flood damage there was worse than after the summer floods of 2007.
Club chairman John Barrett said: "When the Avon floods to this level, causing the amount of damage now experienced, we just cannot meet the cost to restore it to the standard required for league or even social cricket."
Evesham has been helped in its bid by Worcestershire County Cricket Club whose ground at New Road, Worcester, floods regularly.