Wiltshire 'flying fire engine' pilot Jeremy Paxton dies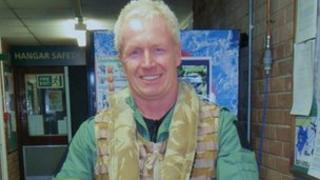 A millionaire businessman who had volunteered to operate a "flying fire engine" in Wiltshire has died.
Jeremy Paxton's family said the 53-year-old, who owned the Lower Mill Estate in Gloucestershire, died on Tuesday night following a heart attack.
Mr Paxton had been developing a Thunderbirds-style rescue network of private helicopter owners working with fire services around the UK.
He had arranged a one-year trial with Wiltshire Fire and Rescue Service.
Chief fire officer Simon Routh-Jones said he was "extremely saddened" to hear of his sudden death.
"In the relatively short time that I knew him, I found him to be a vibrant, imaginative, enthusiastic and generous man, with a deep-seated desire to help his community and a boundless energy to get things done," he added.
'Amazing plans'
For the Wiltshire trial Mr Paxton had offered his time and helicopter for three days per week to assist the fire service with major incidents such as flooding.
He was willing to fund every callout and had fitted his helicopter with fixings to carry 'pods' full of emergency equipment.
The family statement, from Red, Ruby and Rory Paxton, said he had "the biggest zest for life of anyone".
It read: "His vision for sustainable living alongside wildlife in the countryside was incredible and he created something ground breaking and long-lasting at Lower Mill Estate, which will live on forever.
"Without any doubt, Jeremy would have wanted us all to carry on what he started - and we will be taking forward his vision and realising his ambition long into the future. He had amazing plans."