Brighton footballers sex abuse trial: Jury discharged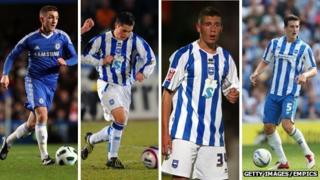 A jury has failed to reach a verdict in the case of four footballers accused of sexual assault.
Brighton players Anton Rodgers, 20, George Barker, 21, Lewis Dunk, 21, and former team-mate Steve Cook, also 21, denied the charge and one of voyeurism.
The prosecution told jurors at the Old Bailey the men humiliated a woman, 19, for their sexual gratification.
Jurors also failed to reach a verdict on the voyeurism charge, except in the case of Mr Dunk who was acquitted.
The assault was alleged to have taken place in July 2011 while the woman slept in the Jury's Inn Hotel in Brighton.
She claimed she fell asleep following a drunken night out clubbing and saw photographs of the incident on Mr Rodgers' mobile phone in the morning.
The players denied any wrongdoing.
Prosecutor Richard Barton told the court he would seek a retrial, provisionally set for 22 April, after discussing the case with the complainant.
Mr Cook, who was on Brighton and Hove Albion's books at the time of the alleged assault, signed for Bournemouth last year.