Rail franchise row: Fears of Great Western 'overcrowding'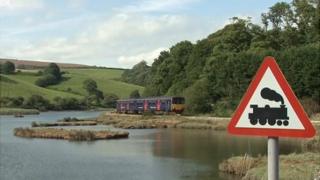 Rail experts are questioning whether train services in Devon and Cornwall will cope after a record number of journeys were made on its branch lines.
In 2012, more than two million journeys were made on the seven lines, according to Devon and Cornwall Rail Partnership.
The partnership, which promotes travel on rural branch lines, fears delays in securing a new franchise will mean a longer wait for new carriages.
Operator First Great Western said it would look to increase rolling stock.
Neil Gallacher, BBC South West's business correspondent, said part of the delay in securing a future franchise was the fallout caused by the collapse of the £5bn West Coast Mainline deal.
As a result, FGW's franchise was extended for six months until October.
Richard Burningham, of Devon and Cornwall Rail Partnership, said: "They [FGW] bring rolling stock down from Bristol, where it's not needed as much in the peak summer, to strengthen holiday services in Devon and Cornwall.
"That's a big help, but had the franchise started as we hoped in April then there would have been some nice goodies that we were are not going to get until it's resolved."
FGW, owned by FirstGroup, runs trains between London, the west of England, south Wales and parts of the Midlands after taking on the franchise in 2005.
Mr Gallacher said: "FGW's six month extension gives a breathing space for the government to negotiate a two-year mini-franchise on fresh terms.
"That also gives a breathing space for civil servants to work out how to run a fully-fledged tendering exercise that will choose the main rail operator for the 10 or 15 years that follow."
Retired railway manager Leonard Wooldridge, from Saltash, said: "I'm disappointed that we don't get any new rolling stock, the trains are very overcrowded and it's a grave concern for people here in the West Country."
The partnership said 2,027,544 journeys were made on the branch lines in 2012, a rise of 4.7% on the previous year.
Julian Crow, FGW regional manager, said the rise in passenger numbers was "great news".
"Obviously we need to continue to look at ways of increasing rolling stock for these lines," he said.
A spokesman from the Department for Transport said: "The First Great Western franchise was one of three put on hold last October following the cancellation of the West Coast competition."
At the time, transport secretary, Patrick McLoughlin, said: "We have had to take some tough decisions regarding franchising, and while they may provide a challenge in the short term, I believe the lessons we have learnt will help deliver a more robust system in the future benefitting fare payers and taxpayers alike."
The branch lines in Devon and Cornwall are the Tarka Line, Tamar Valley Line, Looe Valley Line, Atlantic Coast Line to Newquay, Maritime Line to Falmouth Docks, St Ives Bay Line and the Avocet Line to Exmouth.