Richard Drax MP to question government over bird pollutant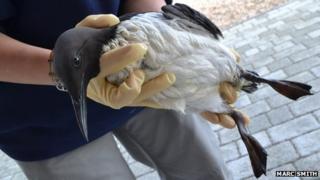 A Dorset MP has labelled the release of an oil additive into the sea which affected hundreds of birds on the south coast of England "madness".
The Maritime and Coastguard Agency (MCA) said polyisobutene (PIB) can be released under certain conditions.
MP Richard Drax described the substance as "disgusting stuff" and said he would ask the government to clarify what is allowed to be released and when.
The RSPB has said it wants PIB to be reclassified and discharges outlawed.
Mr Drax, MP for South Dorset, said he would write to the government "immediately".
"My initial response is one of surprise and horror," he said.
"I can't think of any conditions that a ship should be allowed to discharge this material if it can kill sea birds.
"If you change the oil on your car you do so at a garage with a metal tray underneath, you don't drive down the road and simply open the cap - it's madness."
The MCA, which is now investigating the source of the pollution, said under maritime pollution regulations and "stringent conditions" PIB can be released into the sea in "very, very small concentrations".
However, Stan Woznicki, the agency's counter-pollution officer, said a legal discharge "would be highly unlikely to result in the sort of contamination we have seen".
Birds washed up
The International Maritime Organisation (IMO) said it would consider changing the classification of a substance, but added it was "only a facilitator".
A spokesperson said: "A government member would need to come forward and speak to the other government members and it would be for them to collectively decide."
The substance went unidentified for days until scientists at Plymouth University discovered what it was.
Peter Exley, from the RSPB, said although PIB was classified as "very low-hazard" the impact it had had on birds showed it was "clearly not low hazard".
More than 300 birds, mostly guillemots but also some auks and razorbills, have been treated at the RSPCA West Hatch centre near Taunton, Somerset, since 31 January.
They were mainly found washed up on the shores of Dorset, but also at other sites between Cornwall and West Sussex.