Man shot in Herefordshire burglary bid jailed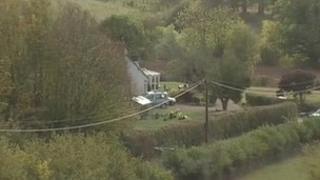 A burglar who was shot by a homeowner and had part of his leg amputated has been jailed alongside an accomplice.
Robert Richards, 30, of Scholars Gate, Birmingham, was shot in the leg in Herefordshire in 2011, police said.
Richards and Darren Randall, 26, of Yardley Fields Road, Birmingham, were jailed for 10-and-a-half years and 13 years and four months respectively.
The pair, who were jailed at Wolverhampton Crown Court, denied aggravated burglary but were convicted.
Empty handed
The homeowner, Malcolm White, 63, of Stocking Gobetts, Whitbourne, pleaded guilty to a number of firearms offences and the production of cannabis.
His partner, Josephine Merrick, 59, of Grassington Drive, Worcester, admitted being concerned in the production of cannabis.
They will be sentenced at a later date.
Richards and Randall went to a house in Whitbourne on 5 October 2011 armed with a crowbar, chisel and cable ties and broke into the property while White and Merrick were inside, West Mercia Police said.
It said White went outside and fired a shotgun at the burglars, injuring Richards, who later required the partial amputation of his leg.
While White called police to report the break-in, Richards and Randall fled before stopping in Leigh Sinton to seek help for Richards' injury, the West Mercia force said.
It said police discovered £18,000 worth of cannabis at the Whitbourne home and it became clear drugs and money were the motivation for the burglary, but Richards and Randall left empty handed.
Randall admitted possessing ammunition without certificate and the production of cannabis.