Shropshire and Hereford and Worcester Fire Service consider share plans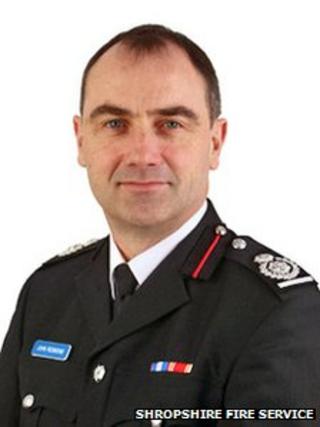 Shropshire and Hereford and Worcester fire services are considering sharing resources, as both face multi-million pound budget cuts.
Areas being looked at include incident command, training and management.
Hereford and Worcester Fire Service said it must save £3m over three years, while Shropshire is facing a £4.5m cut from its £20m annual budget.
The proposals will be discussed at a meeting of the Shropshire Fire and Rescue Authority on Wednesday.
Sir Ken Knight, who is leading a government review into efficiency savings, will meet with managers at Shropshire Fire Service on the same day.
John Redmond, from the service, said they would be telling Mr Knight that their budget "had been cut as far as it can".
He said: "We're underfunded and... the cuts coming to us will impact on the frontline in future years."
As part of the review Mr Knight will visit 15 fire and rescue services over the next three months.