Tom Brabham begins Great Britain coastline walk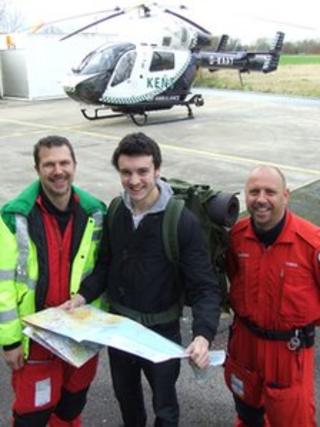 A man from East Sussex has begun a 7,000-mile journey walking the coast of Great Britain in aid of the Kent, Surrey and Sussex Air Ambulance.
Tom Brabham, 22, from Hailsham, set off from Eastbourne Pier on 5 February and has so far walked more than 100 miles.
He hopes to complete the trek by Christmas and will be camping for much of the journey.
The former Hailsham Community College pupil said he was being troubled by broken blisters as he reached Chidham.
He is travelling clockwise around the coast and has been offered places to stay, including B&Bs.
He is also keeping track of his journey on his blog.
"I'm aiming for the Highlands in August, but that's a long way off - I'm just trying to look after myself day by day," he said.
"The journey has been really tough so far because of the weather and the spring tides around the Solent.
"I've been ankle-deep in swamp water."
Mr Brabham said he was inspired by the book Turn Right at Land's End by John Merrill, who achieved the feat in 1978.