Pair smash Cape Town-to-London driving record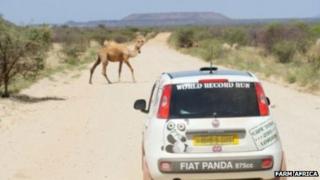 The record for the fastest drive from Cape Town to London has been smashed by two men from Kent and East Sussex.
Philip Young, 63, and Paul Brace, 49, arrived at Marble Arch in central London earlier, after a 10,000 mile, 10-day journey across 13 countries.
They set off from Cape Town in their Fiat Panda on 1 February, to raise money for the Farm Africa charity.
The previous record, set by Brigadier John Hemsley and his wife Lucy Hemsley in 1983, was 14 days.
Mr Young, from Kingsdown, near Deal in Kent, and Mr Brace, from Bexhill in East Sussex, also broke the London to Cape Town record, which can be driven in either direction, of 11.5 days, which had been set in 2010.
The pair took advantage of a new land crossing between Egypt and Sudan and had special permission to drive across Libya without hold-ups at the border.
So far, they have raised more than £12,500 for the charity, which helps families in rural Africa produce food more effectively.