Norfolk MP Norman Lamb 'concerned' over ambulance trust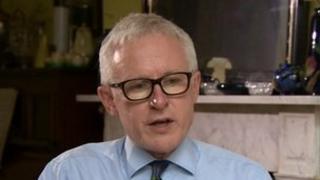 Health minister and North Norfolk MP Norman Lamb said he had "real concerns" about how the East of England Ambulance Trust was run.
He was speaking after a meeting at Westminster on Monday between all the MPs in the eastern region and the Care Quality Commission (CQC).
The meeting was to discuss the results of the CQC investigation into the trust, due to be published in March.
The ambulance trust said it was co-operating with the inquiry.
Mr Lamb said he had not been reassured by the findings of the report.
"I've been working very closely with paramedics in north Norfolk," he said.
"These are dedicated people who are determined to do a good job and they feel totally frustrated by management and the way in which the trust is run.
"I don't think the report is likely to reassure us in its content."
An ambulance trust spokesperson said: "While it is difficult to respond to a report before it is published we do want to reassure patients that we are working closely with the CQC, commissioners and MPs."
'Good discussion'
The trust said it was addressing response times and had launched a wide-ranging action plan to tackle them.
Mr Lamb said he was going to meet Earl Howe, health minister with responsibility for ambulance services, for further discussion.
Therese Coffey, Conservative MP for Suffolk Coastal who was at the meeting, said they had also had a "good discussion" about response times, an area which she said needed addressing by the trust.
The trust has faced criticism in recent months over failing to meet performance targets, and over plans to save £50m over five years.
Last October, chief executive of the trust Hayden Newton stepped down, leading to the appointment of interim chief executive Andrew Morgan.
Mr Morgan said he wanted to get patient services right and improve performance.
In November, the trust commissioned an independent review into its services, particularly for patients in rural areas.
The ambulance service covers Bedfordshire, Cambridgeshire, Essex, Hertfordshire, Norfolk and Suffolk.