Lucian Freud sketches sell for £16,300 at auction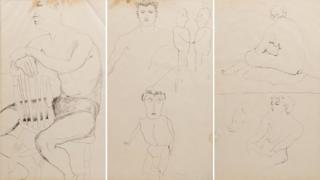 Three sketches drawn by Lucian Freud while he was a student have sold for £16,300 at auction.
The artist Maggi Hambling was selling the ink on paper life studies, which are thought to have been drawn in the 1940s, in Dedham, Essex.
A drawing of a man on a chair sold for £8,300, a male torso for £3,500 and a sketch of two female nudes for £4,500.
Jonathan Benson, of Reeman Dansie auctioneers in Colchester, said they had generated a "lot of interest".
He said the sketches had been difficult to value, as Freud "destroyed so much of his early work".
Freud was born in Berlin in 1922 and fled to Britain with his Jewish family in 1933, when he was 10.
He spent time at the East Anglian School of Painting and Drawing, as did Hambling.
Freud died in 2011 at the age of 88, having become one of Britain's most distinguished and highly regarded artists.
Hambling said she was given the sketches by Cedric Morris, who taught both her and Freud, at different times.
She said she was selling the drawings so somebody else could enjoy them.